Will you discover the real story of Mystery House?
Discover our mysterious escape rooms with stories about the old cinema and its eventful (movie) history. Choose our exciting escape stories, an escape room experience for at home or set off together in the mystery city of Valkenburg!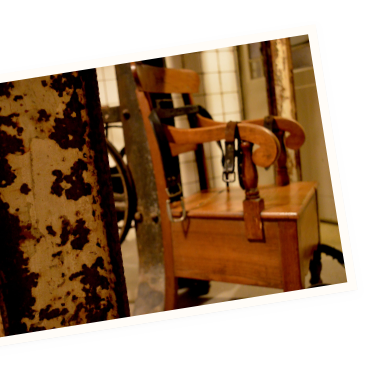 Mystery House is located in the old cinema of picturesque Valkenburg. The escape rooms in Mystery House Valkenburg are each based on old movies, left as curses in the cinema.
Each room has its own theme, its own story,
as well as it's own solution
Only by working well together and making the best use of each other's knowledge can you find all the hints in the room. Will you manage to solve the riddles and crack the codes before the 60 minutes run out?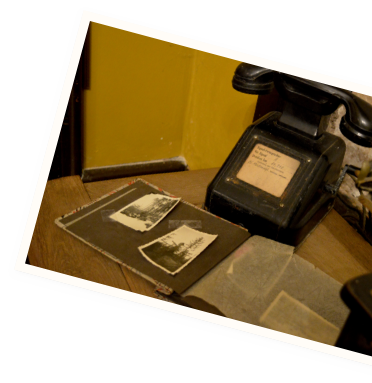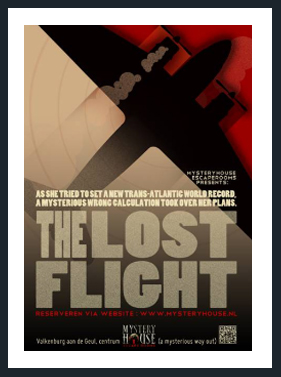 The Lost Flight is based on the story of the first female explorer Amelia Earhart, who caused a furor in the 1930s as the first female pilot to fly solo across the Atlantic Ocean.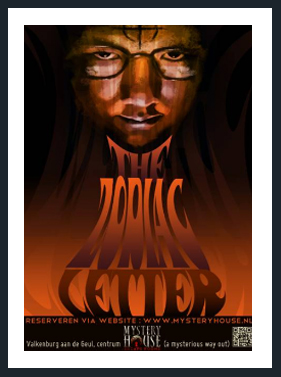 The Zodiac Killer is the code name of a suspected serial killer from the 1970s who allegedly was active for many years.
Supposedly, because to this day the identity of the Zodiac Killer remains unknown....
Nellie Bly is the pseudonym of the groundbreaking American journalist Elizabeth Jane Cochrane. As a writer, Bly stood up for female workers, but was pushed out to the "women's pages" under pressure.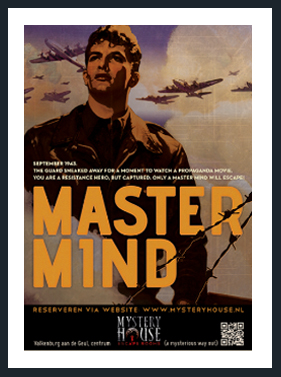 In the "Master Mind" room, you imagine yourself in occupied Valkenburg during World War II. The cinema is a stronghold of Nazis. As a resistance fighter, you are arrested and detained in the entrance ticket office.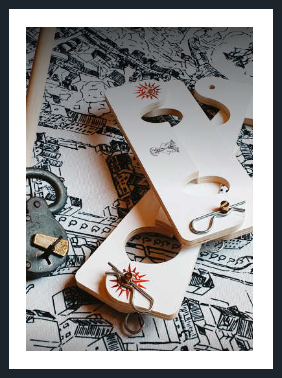 Pieters geheim is een outdoor stadsspel gebaseerd op het verleden van de Bokkenrijders. Een roversbende die vroeger actief was in o.a. Valkenburg. Deze outdoor escaperoom is uitdagend en geschikt vanaf 12 jaar. 
Do you also notice any strange things?
Help fight the ancient, intelligent, secret society calling itself "the 13th". Prove your thinking skills, and think of it as training to save your own world.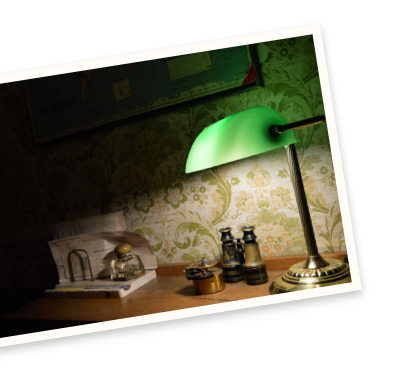 "THE ESCAPE ROOMS AT MYSTERY HOUSE VALKENBURG JUST HAVE THE COMPLETE PICTURE! THE THEME, THE PUZZLES, ATMOSPHERE.... IT JUST ADDS UP! SET UP VERY PROFESSIONALLY! HIGHLY RECOMMENDED!"
Caroline
The Lost Flight
Nu alle 3 de kamers voor 6 personen gedaan. Naast de unieke locatie en is de voormalige bioscoop smaakvol ingericht! Het personeel is ontzettend vriendelijk, behulpzaam en professioneel! De kamers zijn eveneens ingericht met oog voor detail. De puzzels zijn uitdagend en origineel. Mystery House is terecht een van de beste Escape Rooms!
Niels van Bun
The Zodiac Letter
Ik raad het ten zeerste aan! De service is erg aardig en betrokken, je kunt zien dat ze het met passie doen, we gingen met 4 personen, twee gevorderden en twee voor de eerste keer. Ik zou deze plek aan iedereen aanbevelen, veel kameropties om uit te kiezen en super leuk.
Marcel Olejniczak
Aylum Revealed
We werden heel vriendelijk en vrolijk ontvangen. Super leuke tocht door Valkenburg met uitdagende puzzels en raadsels, onze zoon (van 15… )was ook heel enthousiast en betrokken en dat zegt genoeg 😉.

Denkt u dat wij ontdaan zijn van de vloek van Elizabeth?
Yvan Bloem
Elizabeth's Mystery
Echt top dit, de coolste escaperoom waar ik geweest ben. Er is overduidelijk heel veel aandacht besteed aan de details en dat merk je terug in de beleving van de kamers. Alles is tip top in orde en zeer goed uitgedacht. Het personeel is daarnaast ook nog eens heel vriendelijk. Zeker een aanrader als je eens iets anders wil doen in Valkenburg!
Lars Smeets
The Zodiac Letter
Escape room in een oude bioscoop. We deden met z'n zevenen Amelia Earhart en we waren voortijdig klaar. Desalniettemin waren we allemaal tevreden en komen zeker nog een keer terug.
Noorder Vorst
The Lost Flight
Voor een vriend als verjaardagscadeau gegeven. Wat voor ons automatisch betekent dat we zelf ook mee kunnen doen 😉 Ontvangst was zeer prettig. Goede uitleg en een uitdagende escape room (Asylum Revealed). We hadden nog 11 seconden op de klok toen we eruit kwamen.

Zeker een aanrader.
Ron Zeelen
Asylum Revealed