"October 13, 1969. On the editorial staff of the San Francisco Chronicle, there is a sudden silence. There's another . "
* Escape rooms outside of our regular business hours can be requested through our email info@mysteryhouse.nl (minimum 2 rooms)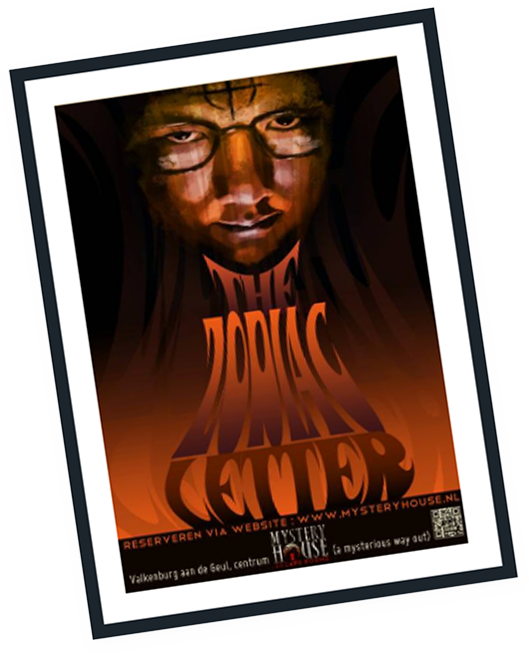 This is the Zodiac speaking…
Opening the envelope, a piece of fabric falls to the ground. All eyes are focused on the blood-stained piece of t-shirt, which betrays the lurid text that is about to follow. The editor-in-chief clears his throat and begins to read the letter with trembling hands "This is the Zodiac speaking..."
The Zodiac Killer is the code name of a suspected serial killer from the 1970s who was active for many years. Alledgedly, because to this day the identity of the Zodiac Killer remains unknown. For months, he or she sent enigmatic letters to the press in California. Letters full of gruesome descriptions of murders that had already been carried out, or were to follow.... Strange, mysterious messages with almost impossible-to-solve cryptograms, at least one of which has never been solved to this day.... All from an apparent sender: the Zodiac.

Do you dare to open The Zodiac Letter?
Do you dare to open The Zodiac Letter?