When on the night of July 14-15, 2021, the Geul water in and around Valkenburg reaches extreme heights, it turns out that more has surfaced than was expected. For example, Pieter finds floating boxes and a very large chest in the water.
* Escape rooms outside of our regular business hours can be requested through our email info@mysteryhouse.nl (minimum 2 rooms)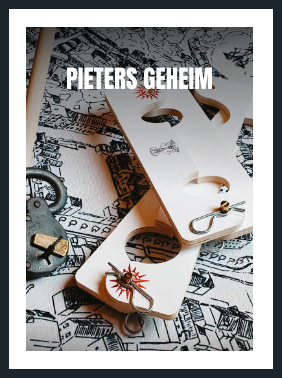 Escape story in Valkenburg
As he manages to straighten the cabinets full of tin and drain the water from the cabinets, Pieter hears a voice. The voice claims to be called Thijs and has been hiding in his hiding place for a VERY long time.
Lei the tinsmith protected and hid him to stay out of the hands of the bloodthirsty Bokkenrijders hunter Vignon (1762).
Will you manage to break the curse of Thijs and bring him to the surface?
The solutions are hidden all over Valkenburg.
Pieters secret is a city game based on the past of the Bokkenrijders. A gang of robbers who used to be active in Valkenburg. This outdoor escaperoom is challenging, unique and suitable for ages 12 and up.
Go on an adventure, discover the secrets and unravel the mystery in time!