Een van onze mysterieuze gidsen neemt jullie mee op een amusante stadswandeling door de straten van de Geulstad.  Ontdek snel onze Mystery City Walk op deze pagina en plan het volgende uitje met je vrienden of familie!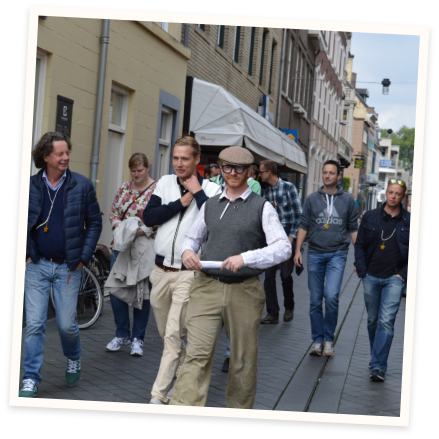 Unravel the secrets of Valkenburg
Discover the hidden myths and saga of beautiful Valkenburg. One of our mysterious guides will take you on an amusing city walk through the streets of the Geul town. Thanks to the game element that is woven into the walk, there will be a lot of guile and deception among you. A fascinating and entertaining game that you will talk about for a long time!
Voor meer informatie over onze Mystery City Walk en reserveringen kunt u contact opnemen met info@mysteryhouse.nl or +31 (0) 43 737 01 89 (available daily between 10 a.m. and 2 p.m.)
Minimum one week in advance for a reservation, availability depends on our actors.