P1. Parking lot Burg. Henssingel
Burgemeester Henssingel 3, 6301 DG Valkenburg
Paid parking 11:00 - 20:00. Mon to Sun.
Hourly rate: € 1.90 - Daily rate: € 8.00
P2. Parking lot Plenkerstraat
Plenkertstraat 43, 6301 GL Valkenburg
Paid parking 11:00 - 20:00. Mon to Sun.
Hourly rate: €1.90 - Daily rate: continuous hourly rate
P3. Parking lot Odapark
Prins Bernhardlaan 30, 6301 GV Valkenburg
Paid parking 11:00 - 20:00. Mon to Sun.
Hourly rate: € 1.90 - Daily rate: € 8.00
P4. Parking lot Spoorlaan P+R
Spoorlaan, 6301 GC Valkenburg
Paid parking 11:00 - 20:00. Mon to Sun.
Hourly rate: € 1.90 - Daily rate: € 8.00
P5. Parking lot aan de Kei
Sint Pieterstraat 26, 6301 DR Valkenburg
Paid parking 00:00 - 23:59. Mon to Sun.
With Cityparking you park for free from 8:00 to 11:00 a.m.
Hourly rate: €1.90 - Daily rate: continuous hourly rate
P6. Parking 't Centrum – Grendelplein
Daalhemerweg 8, 6301 BK, Valkenburg a/d Geul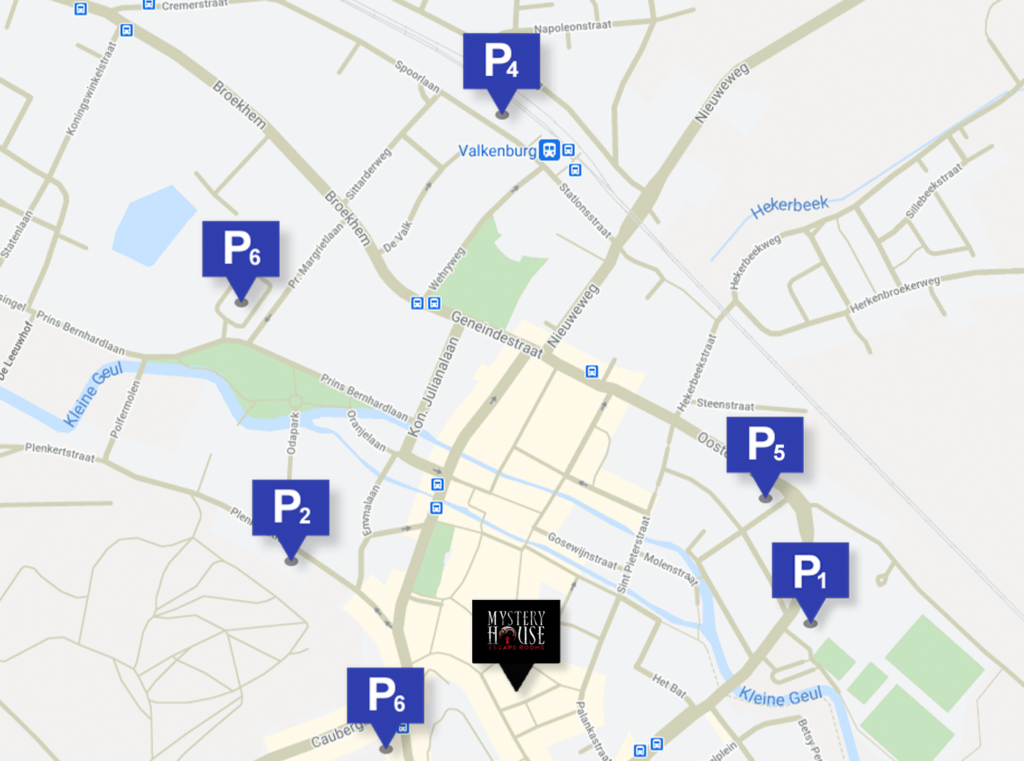 Cheap long term parking applies in the parking lots with barriers,
all no more than a 15-minute walk from Mystery House Valkenburg.
Call Parking
In Valkenburg, you can also pay the parking fee by smartphone, text message or phone. You only pay for the actual parking time. All providers listed in the National Parking Register allow mobile parking here.