Een escape room is een zenuwslopend spel vol spanning en plezier, waarbij het optimaal benutten van elkaars kennis en goed samenwerken de 'sleutel' tot succes is!
You are locked in a room as a group (2 to 6 people), with only one goal: escape within one hour. As soon as the door closes behind you, time begins to run out. In the room you will find puzzles, riddles and unexpected clues that are the key to your escape. A nerve-racking game full of excitement and fun, where making the most of each other's knowledge and working well together is the "key" to success!
The escape rooms at Mystery House Valkenburg are all based on existing filmed Mysteries left behind in this cursed cinema. Each room has its own theme, its own story, and ... its own solution.
Escape rooms are the perfect getaway with friends or family, but are also perfect as a group activity. Read more about our options for large groups and team building here. More questions? Check the frequently asked questions or contact us!
All of our escape rooms are air-conditioned! 
Hopelijk heb je nu antwoord op je prangende vraag: "Wat is een Escape Room?"
The Lost Flight is based on the story of the first female explorer Amelia Earhart, who caused a furor in the 1930s as the first female pilot to fly solo across the Atlantic Ocean.
The Zodiac Killer is the code name of a suspected serial killer from the 1970s who allegedly was active for many years.
Supposedly, because to this day the identity of the Zodiac Killer remains unknown....
Nellie Bly is the pseudonym of the groundbreaking American journalist Elizabeth Jane Cochrane. As a writer, Bly stood up for female workers, but was pushed out to the "women's pages" under pressure.
In the "Master Mind" room, you imagine yourself in occupied Valkenburg during World War II. The cinema is a stronghold of Nazis. As a resistance fighter, you are arrested and detained in the entrance ticket office.
Pieters Secret is a city game based on the past of the Buckriders, a gang of robbers who used to be active in Valkenburg, among other places. This outdoor escaperoom is challenging and suitable for all ages. 
Do you also notice any strange things?
Help fight the ancient, intelligent, secret society calling itself "the 13th". Prove your thinking skills, and think of it as training to save your own world.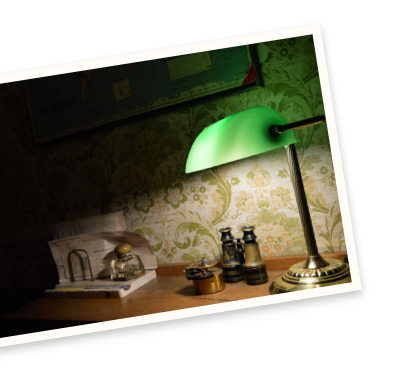 "THE ESCAPE ROOMS AT MYSTERY HOUSE VALKENBURG JUST HAVE THE COMPLETE PICTURE! THE THEME, THE PUZZLES, ATMOSPHERE.... IT JUST ADDS UP! SET UP VERY PROFESSIONALLY! HIGHLY RECOMMENDED!"
Caroline
The Lost Flight